Organizing home pantries has been one of the biggest trends this 2021. As people had more time staying at home, many have realized the importance of keeping it dirt-free, organized, and beautiful. Several households started sharing their house projects, improvements, and other aesthetic home designs online that encouraged other people to do the same. As one of the most talked-about parts of the house, pantries became the area of focus for most house improvements.
A pantry or a storeroom is a small room or closet where food stocks, dishes, and utensils are kept. Most houses havebuilt-in space for storing household groceries and other essential goods. Some households renovate their storage room and add enhancements varying from adding aesthetic shelves, bins, racks, wallpapers to repainting walls. However, for those that doesn't have one, they install storing cabinets which are less costly and equally convenient especially for small house areas.
---
For more tips and ideas on home designs for affordable house and lots, check out this article, Interior Design Trends to Try this 2021.
---
Putting up a space for storage can be quite handy, but maintaining it in its clutter-free and organized state can be a real challenge. While aesthetics are important, the orderliness and cleanliness of the whole area is vital. As a stockroom of foods and consumables for the whole family, it should be free from toxic substances, pests, and other bacteria, which could threaten the health of the family. Keeping pantries spotless, therefore, should be prioritized and be given importance.
To help you get started, here are simple steps you can follow in cleaning, organizing, and maintaining an aesthetic pantry in your house.
1. Empty the entire storage area
Maintaining a storeroom goes beyond just the arrangement of the stocks- it includes properly polishing each corner of the area.
Empty the entire storage, from the cabinets to the food containers, for a good start.
Pull out all the stocks, set them aside, and be prepared to see tons of spilled contents or some ants hovering some parts of the cabinet.
Wipe off all dirt from surfaces and shelves, disinfect and spray some necessary organic or safe substances to keep off pests.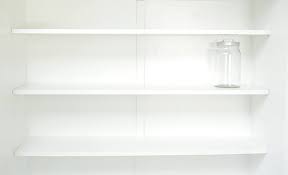 2. Check Inventory
Checking the expiration dates of the goods you set aside after emptying the storeroom is the next step. Look into all the food, condiments, drinks, and snacks, just to name a few, and throw away the expired goods. Take note of which products are nearing their expiration dates and the stocks you throw away- you'd need to get a few new products to consume. A well-kept stockroom is free of spoiled food and expired goods that could potentially poison or harm the household's health.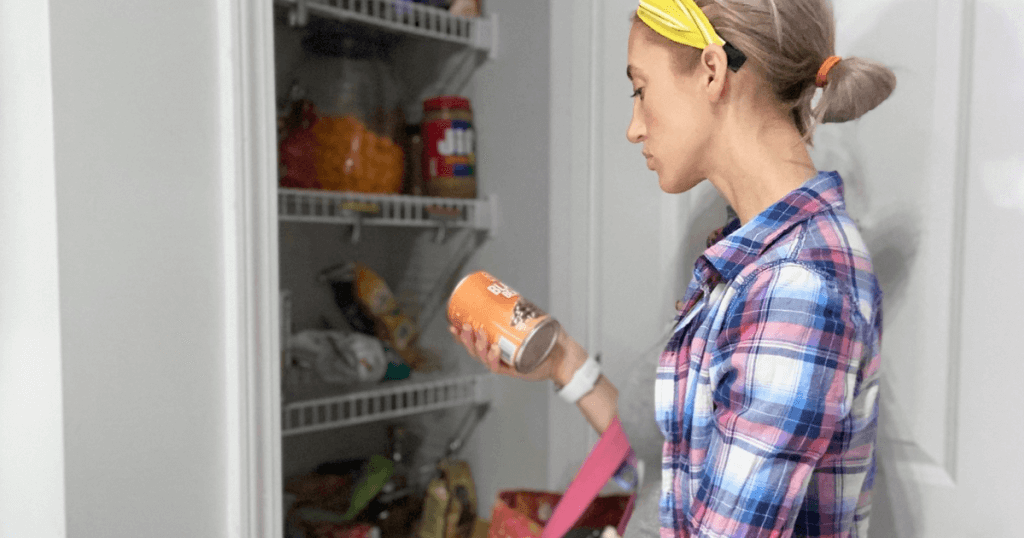 3. Categorize Stocks
One cause of a cluttered space is the lack of proper categorization of goods- everything is just all over the place. Categorizing stocks according to their use and their expiration date is a way to be orderly. It also makes your stocks and products easier to navigate, making it convenient and efficient for you. Additionally, it helps you avoid wasting food and not being able to consume it earlier than expiration. You can regularly check on your stocks per category-making the maintenance of your storage easier.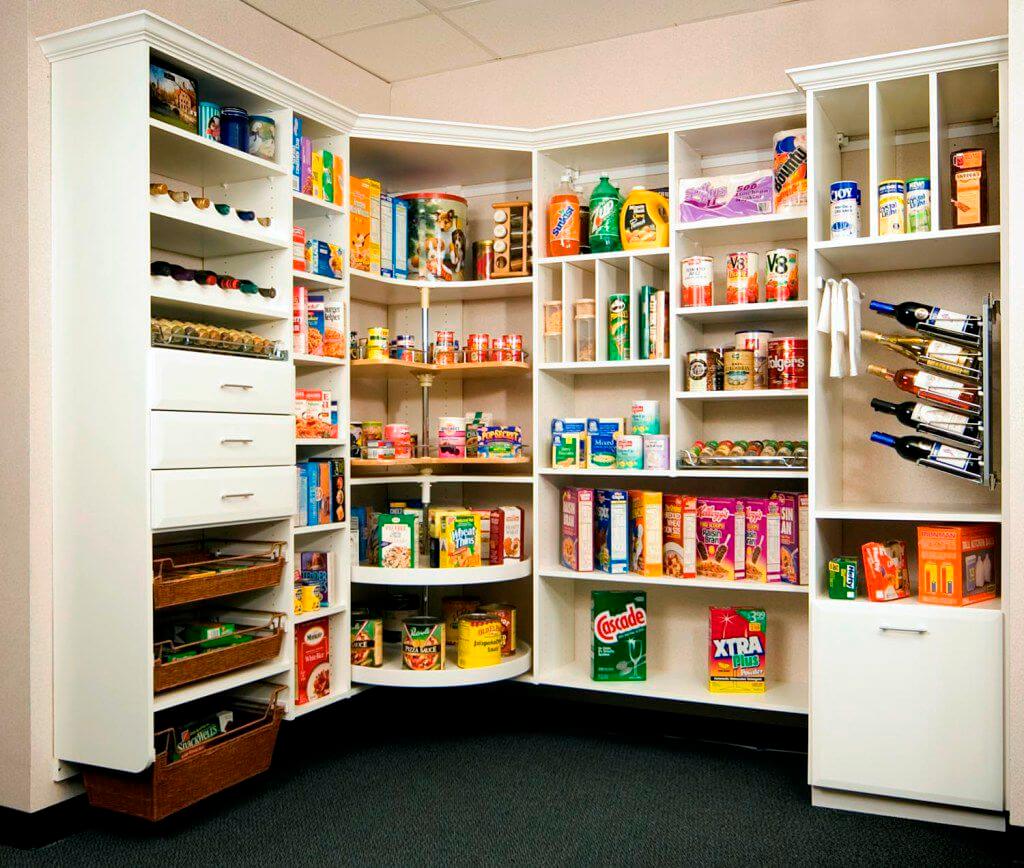 4. Put Label
Labels play an important role in maintaining a sorted pantry. It guides the whole household where to place or return certain stocks after using. Labeling is assigning a specific shelf for certain categories of products such as condiments, snacks, canned goods, and drinks, just to name a few. Everyone in the house, especially the kids, can easily locate what they need. There is no more confusion as to where they should look for when in need of a specific product. Also, label your containers, baskets, and bins properly to avoid the wrong use of products that looks the same, like salt and white sugar.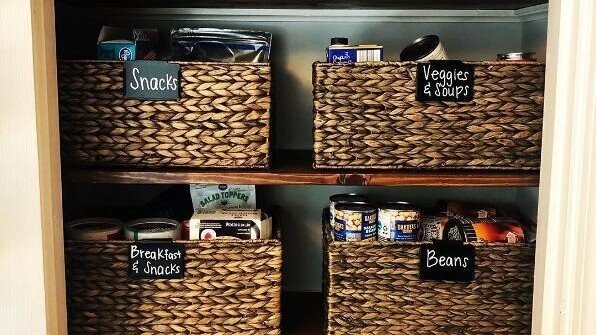 5. Add Shelf Liners
Shelf liners are great for the food storage as it shields cabinet surfaces and protects the paint against stains from product excess like soy sauce and oil. It also makes tidying up easier as the liners can be pulled out from the cabinet. Installing rubber liners is also a wise way to keep products and containers from slipping as it holds them in place. Using shelf liners protects the shelves from getting scratches due to scraping when removing or returning containers or other items to their place.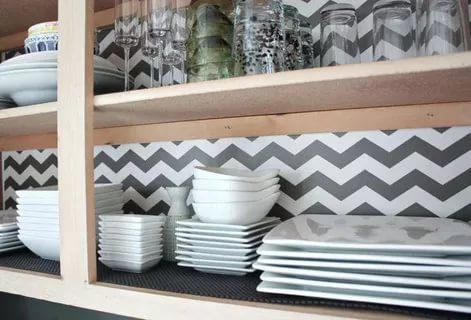 6. Make Kid-Friendly Spot
Make room for the youngest members of the family, the kids. Making a special spot or shelf for their usually consumed goods will not only make them happy, but it will also make the entire area orderly and free from unwanted accidents such as falling containers, spillage, or injury from a fall. Kid-friendly spots normally are in the bottom-most part of the cabinet, which is accessible for them. Labeling their spot is the key to keep the kids guided as to where they can hover. It also teaches them a sense of responsibility to keep their area neat and orderly.
---
Learn how to make your home a better place for your kids in Home O'clock.
---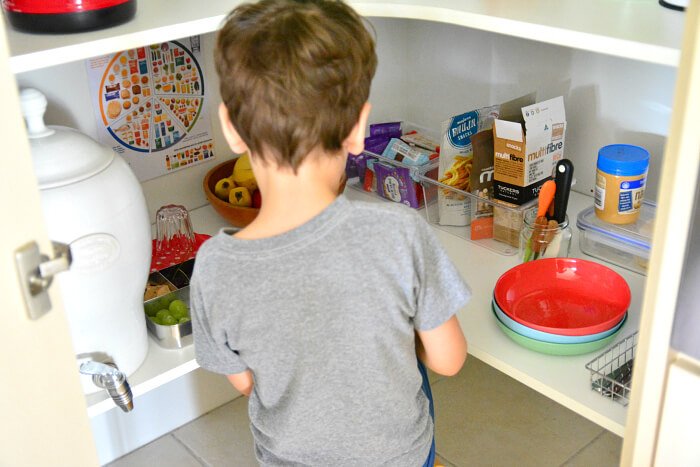 These are the basic and the six easiest steps to follow in maintaining a clean, safe, and orderly panty at home. Put these into practice and ensure your family's safety with the food they consume from your pantry. The initiatives above are not only for keeping pantries clean and organized- the same things can also be applied to kitchen cabinets and other storage areas at home. Organizing pantries, on the other hand, is also not limited to doing the tips above.
---
Find your family a safe a secured forever home. Check the affordable house and lot for sale in the Philippines by visiting Lessandra's project listing.
---
Several other ideas to improve and make your storeroom more personalized are available online, which you can easily access for broader choices. The options are limitless, it's up to you what you integrate or what you don't in your house improvement plans. Always keep in mind that renovating and adding more facilities in your house goes beyond the purpose of structural aesthetics- it is done to make your home a more livable and safer place for you and your whole family.
---
Lessandra is a developer of quality and affordable house and lots in the Philippines. For more lifestyle, home-related articles, visit Lessandra Blog. For real estate investment and related topics, check out Lessandra's Lifestyle and Home Investments articles.