With land prices going up, more and more Filipinos are looking for an affordable house and lot. It's no surprise that space-saving home items are all the rage today. Streamlined and aesthetically pleasing as they look, there's one thing to look out for, especially if you own too much stuff or hoard a lot – storage.
Luckily, you can choose over a dozen of ways to make your home look bigger and more spacious.
Save Space by Space Planning
Investing in an affordable house and lot in the Philippines means that every living space and room of the house should be well-spent, making space-saving hacks more than helpful.
Space-saving does not mean putting or installing storage drawers and cabinets in every corner of the house. A key element is designing and planning the floor space to be as open and visually larger as possible. By starting with a well-planned home, you can easily fill them in with the right furniture and accessories. Here are five space planning techniques to get you started:
1. Place low bookcases behind sofas to double as sofa tables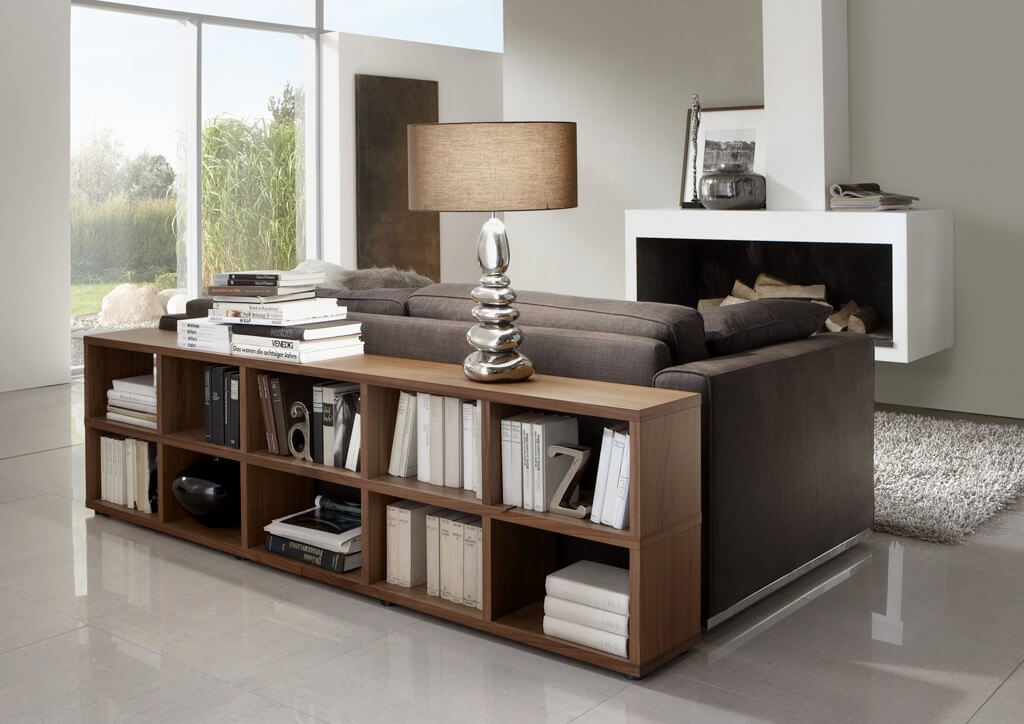 Sofas, especially the lighter ones, tend to slide little by little due to continuous movements. This can disrupt your room's furniture layout. You can easily prevent this by adding low bookcases behind each sofa, preventing them from moving around. Aside from storing books, a low bookcase is a great idea for storage solutions for miscellaneous items and display accessories.
2. Keep window designs minimal
There's nothing wrong with having expressive windows. However, this becomes a challenge when dealing with smaller spaces where every square meter counts. Opting for minimalist designs will not only save you physical space, but will also minimize the visual clutter that tend to create the illusion of a cramped space.
If you want to have extra storage near your windows, try extending your windowsill a little bit to accommodate a small indoor plant or a scented candle. Storage solutions like this help avoid wasted space.
3. Stretch your space outwards with a cozy patio or deck
If the house and lot permits, extend it outwards by creating an open, outdoor area such as a patio, deck, or lanai. By doing so, you create an additional area for hang outs for both residents and visitors, expanding your indoor living area.
4. Avoid large pieces of furniture to reduce clutter
Minimizing clutter is a big factor in designing space-saving homes. If you are aiming for an extra artistic touch, but is challenged with smaller spaces, opt for equally smaller furniture and accessories. Keeping everything well-proportioned does not only add space to your home, but it also creates a generally cohesive look. With just the right size of home items, you would be able to enjoy more space too to accommodate all your things.
5. Take advantage of the room height and go lofty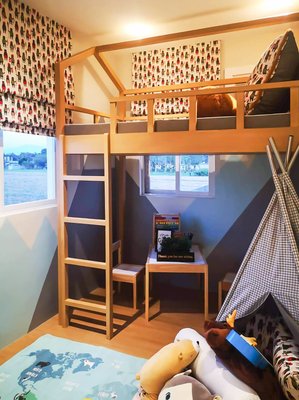 While a bigger room means more space, owning small spaces doesn't always have to be a challenge. Instead, take advantage of the height of the bedroom and if you can, build a loft. This is most recommended for those living in studio spaces.
Another space-saving idea for bedroom is to have a murphy bed. A murphy bed is a bed that is hinged at one end to store vertically against the wall, or inside a closet or cabinet.
Make use of design tricks for small space
Now that the space has been dealt with, it's time to move upwards and think about ways on how to maximize your walls up to the ceiling. Understanding that the main goal is to have as much storage as possible. Here are 10 tips and storage solutions on how you can transform the bland or bare walls into something useful and pleasing to the eyes:
1. Hop on to the "cupboard under the stairs" technique
This set-up is all about creating convenience, more than being a common house design seen in movies. Under-the-stairs storage is ideal for keeping food supplies, extra clothes, shoes, stationery, and cleaning materials. By utilizing the space, you are able to create more storage .
2. As if under-stairs storage isn't enough, stair drawers can surely make every step count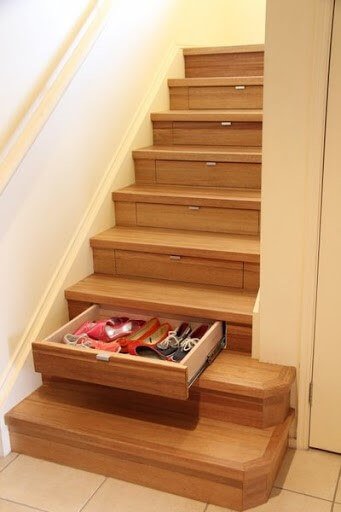 If your stairs are either sandwiched in-between walls or the storage under it is still not enough, you can modify each riser to be a pull-out drawer for storing shoes, toys, or any stuff you want out of sight (but still needs to be accessible). To make this remain safe, better choose pull-out drawers with a magnetic latch.
3. A foldable table that sticks to a wall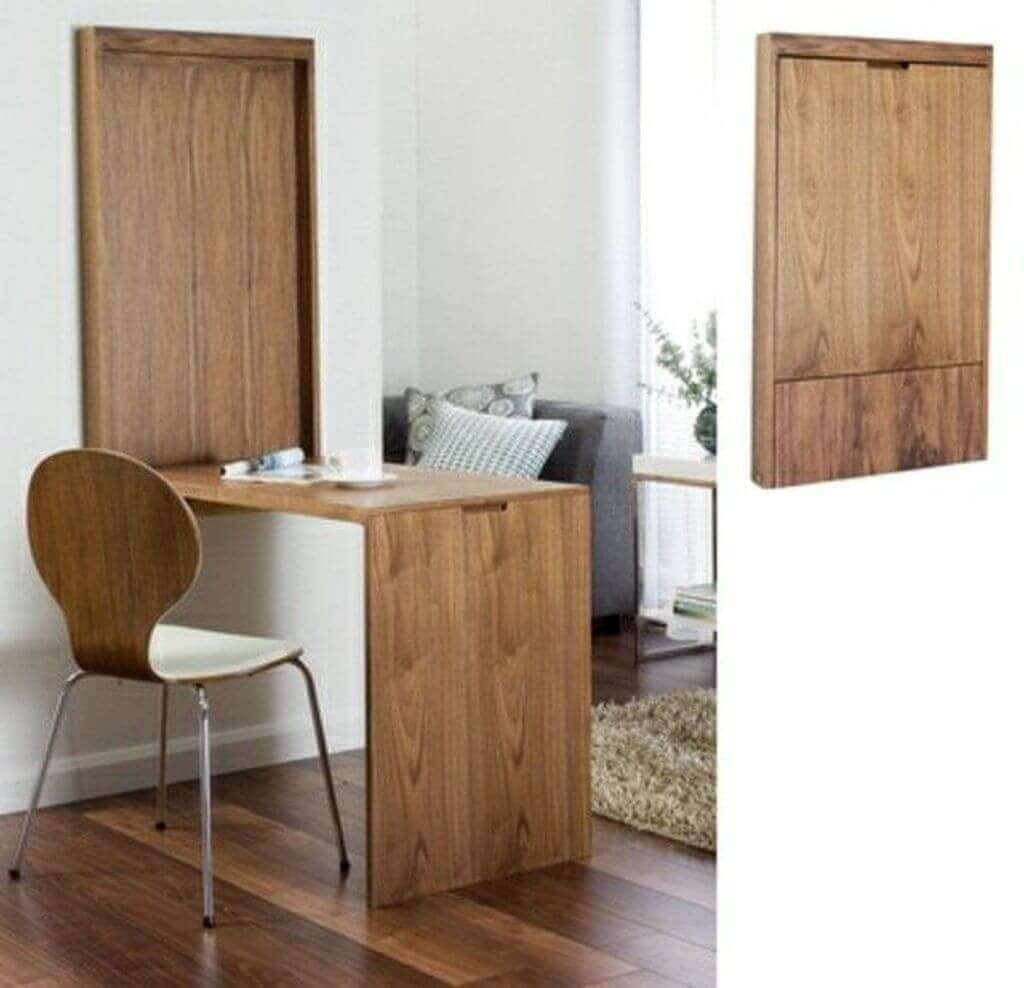 Since the pandemic, a lot of people went to remote working and studying. While a typical desk and office chair setup might be your go-to solution for this situation, a table that can be folded and kept against a wall when not in use is also very much ideal. This will not only save space but will also help in separating your work and personal time set-up within the house. This foldable table can even double as a small dining table.
4. Maximize natural heat and lighting with window blinds that double as a drying rack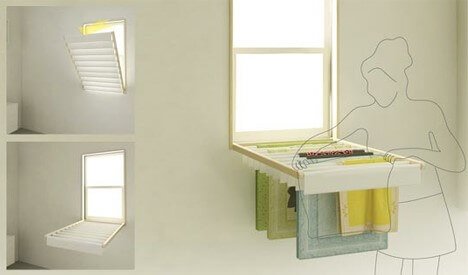 While a washing machine with built-in dryer is already a thing, sometimes, it's preferable to let clothes dry naturally. Installing window blinds that fold hopper-style and turning into a mini drying rack makes it naturally drying clothes possible in small spaces. This also allows natural light to flow into the room.
5. Partitions and furniture all in one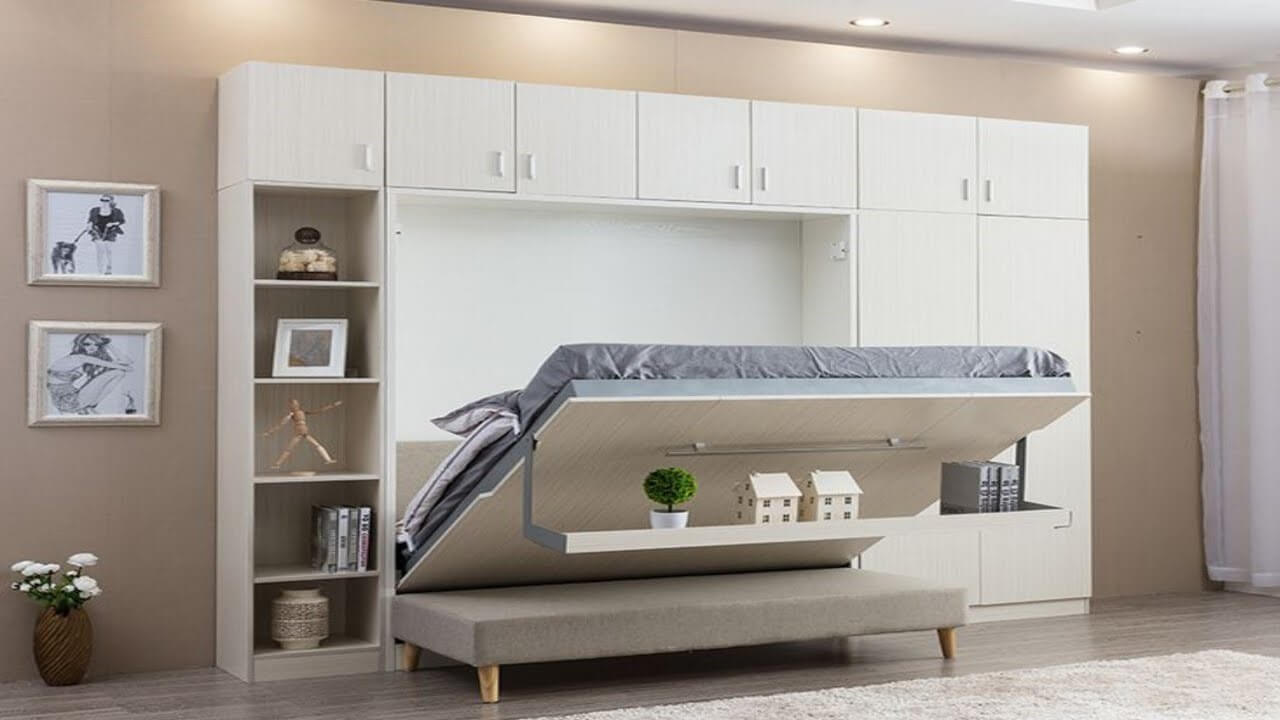 Wall racks and storage don't just accommodate hiding small things. They can also be used for hiding occasionally-used big furniture such as an extra bed or a small foldable sofa. This will allow you to have extra open space when needed, all the while having all the furniture you need easy to pull out anytime.
6. Secret pet bowl drawer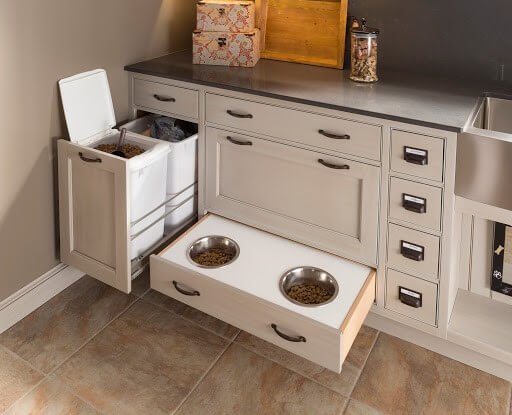 If you have pets at home and you're tired of having to organize your bowls every mealtime, you may want to invest in a small drawer with a special pull-out compartment for built-in pet bowls. Just make sure that they are ergonomically placed to be within your pets' reach.
7. Use strong vertical lines to draw the eye upwards
Sure, kitchen islands may look elegant and convenient. However, they may be a luxury for smaller houses. Worry not, though, as you can have your kitchen island minus the overwhelmingly large space demand by keeping it intact to your kitchen counter and concealing it with rollers. With this, you can easily pull it out and hide it whenever you're done cooking.
8. Rolling kitchen island for the cooking enthusiast
Sure, kitchen islands may look elegant and convenient. However, they may be a luxury for smaller houses. Worry not, though, as you can have your kitchen island minus the overwhelmingly large space demand by keeping it intact to your kitchen counter and concealing it with rollers. With this, you can easily pull it out and hide it whenever you're done cooking.
9. Optimize corner space with corner shelves
Corners are tricky spaces to design. If it's too bland, your space will look dull. If it's too much decorated, your space will look stuffy. With these in mind, you can opt for corner storage with open shelving to utilize the space and at the same time, keep things from looking too cluttered.
10. The sky is the limit
Taking advantage of the space close to the ceiling, be sure to keep in mind the height of everyone in the house, to make sure no one will bump onto your decorations and cabinets, and at the same time, no one will have trouble reaching for stuff stored up.
Maximize Furniture Use
Filling up your home with all the necessary furniture can immediately make your home appear smaller. This is why picking the right furniture—sizes, textures, finishes, and functions—is important. Here are seven basic pointers to get started:
1. Look for hidden storage space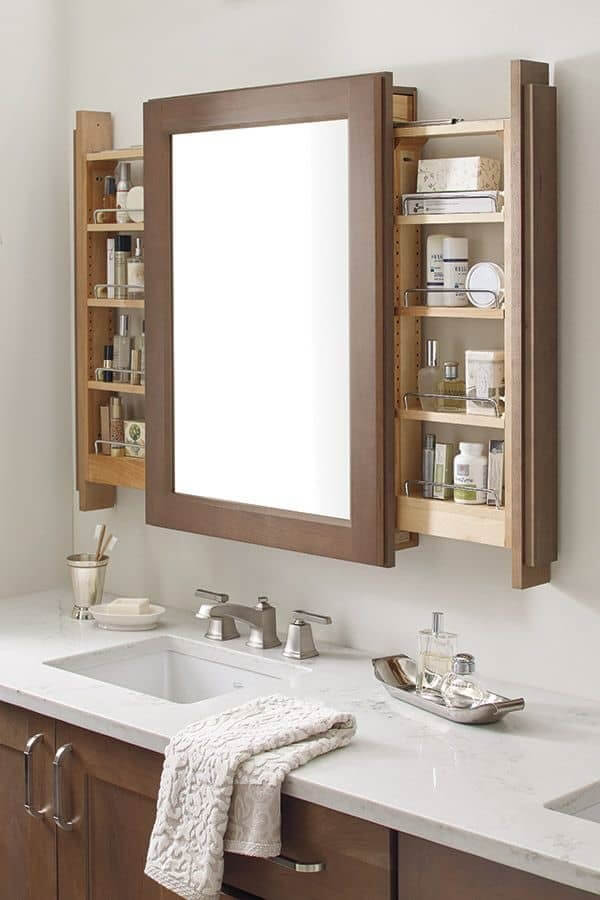 It's easy for furniture with extra storage space to look extra bulky, which is why you should opt for hidden storage spaces instead. Examples of this are shelves concealed underneath mirror or glass panels, and ottomans with hollow spaces inside.
2. Maximize counter space by assembling mini shelves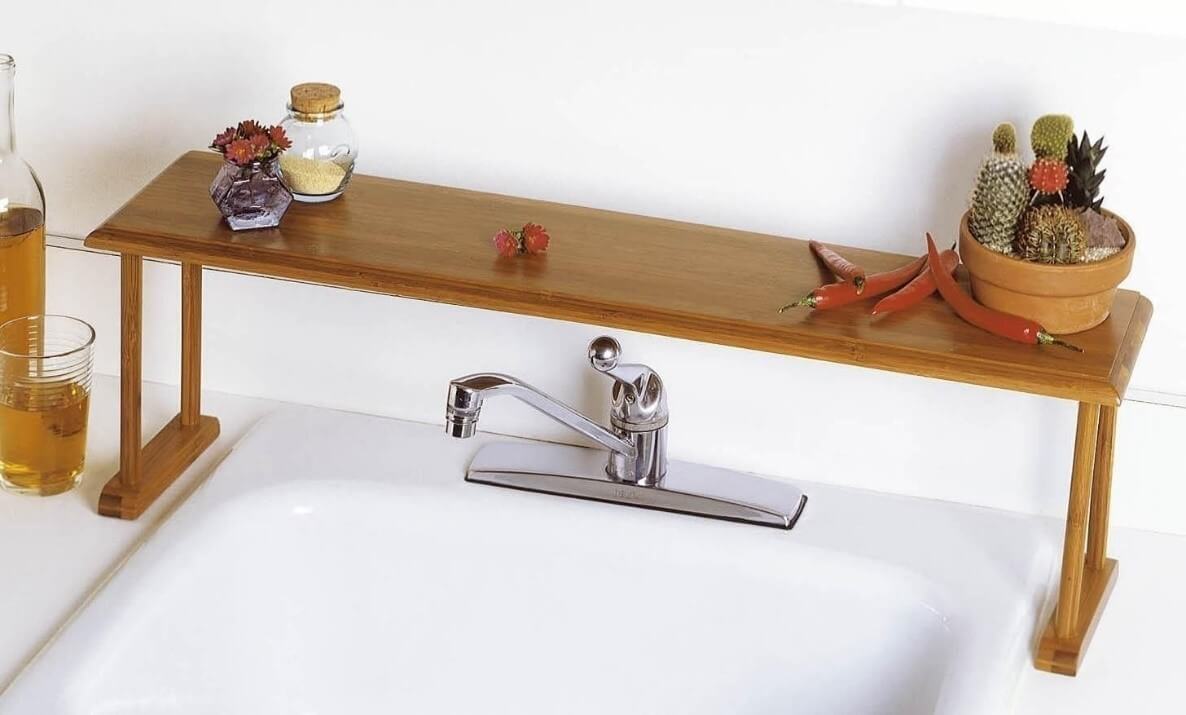 An excellent example is the over-the-sink shelf, providing extra storage space for cups, utensils, dish soap, or anything needed to be placed near the sink. These are useful for those with limited spaces in the kitchen or small bathroom. There are also similar shelves designed to be placed over the toilet tank.
3. Use air space
If over-the-sink shelves are not enough, always remember to look up. Make the most out of your space from the floor up to the ceiling by adding hanging shelves like those made of macramé (knotted cord) to hold accessories, produce, spices, or a small indoor plant.
4. Keep your stuff accessible with rolling storage carts
Rolling storage carts are not only meant for keeping your stuff. They also make them accessible, especially when things get busy around your house. A great example for this is by storing electronic accessories and even supplies for your hobbies. This will allow you to get stuff done wherever you are within your home.
5. Consider extending your headboard with additional compartments
If you're the type to read or play in your phone before going to bed, adding small compartments to your headboards can be a lifesaver, especially for the times when reaching out to your bedside table seems too much.
6. Look for cabinets that fold out on angles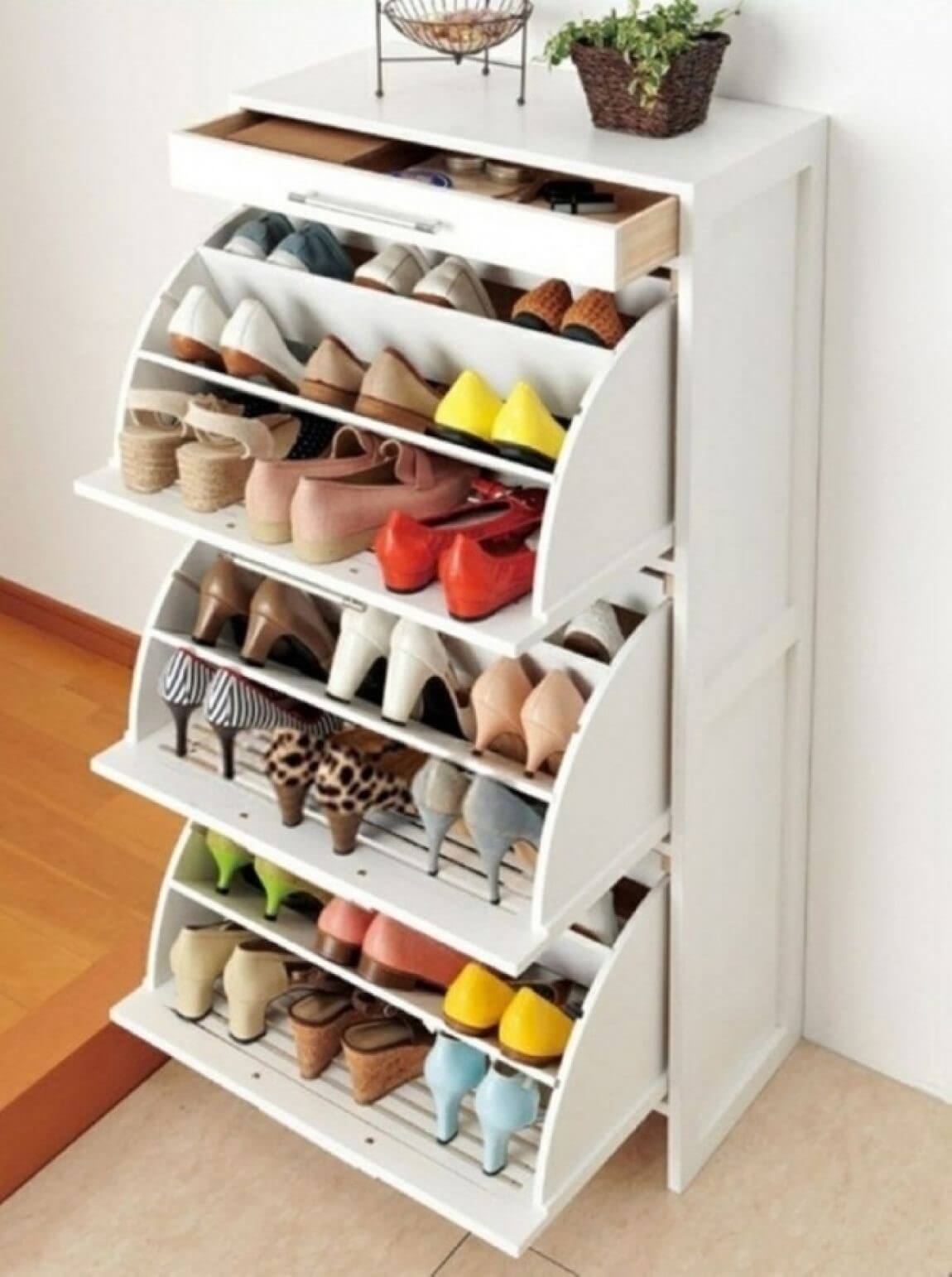 These cabinets are especially helpful for keeping shoes to keep them upright and easily accessible. You can also accessorize the top of these cabinets with small trinkets and a few vases.
7. Invest in convertible furniture
Convertible furniture will be your best friend when you are living in slightly limited space. For instance, a convertible sleeper sofa that turns into a bed will be convenient when a trip to the bedroom is too much, or if you have any visitors staying for the night.
Add some final touches
Now that you have a planned, designed, and filled up the space, the last thing to focus on is the decors that will complete your home. Although small spaces are often paired with minimalist interiors to have as little clutter as possible, mixing them up with other styles and interesting accessories can make your home look more homey and personalized. Here are five tips to keep in mind:
1. Avoid vibrant prints, instead, opt for plain and/or textured furniture
Furniture and accessories can be a hit or miss – they can either liven up any space or make it seem cramped. In most cases, vibrant prints have a lot going on visually. Focusing on those busy-looking decors or accessories will create a narrower line of sight, making small spaces look smaller.
2. Use mirrors to create the illusion of space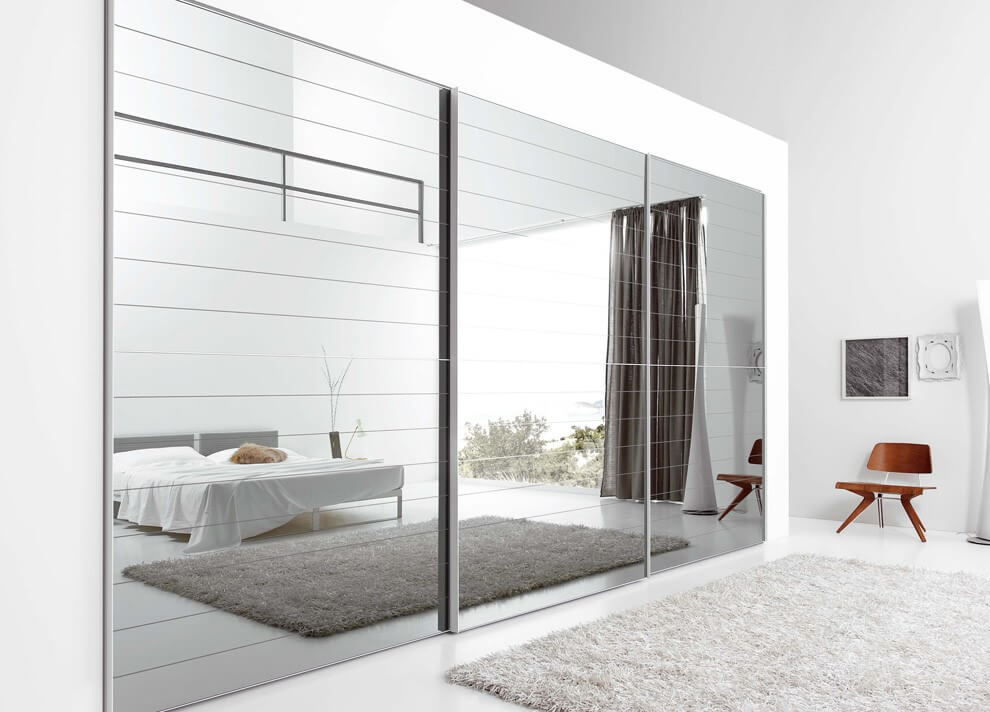 Installing mirrors in smaller spaces has always been among the most well-known space-saving tips, and all for the best reasons. Since mirrors practically duplicate the images in front of them, they can visually extend a wall that would've been otherwise plain and empty.
3. Go monochrome
By now, you might be already getting the hang of space-saving techniques both for the sake of having additional space and keeping your home look more "airy". They focus more on keeping things simple and minimal, while ensuring that any space will not look and feel bland. Mixing different shades of the same color will be more advisable than widely exploring the color wheel.
4. On the same note, use the same (or similar-looking) floor tiles
While this does not technically save space, using tiles similarly colored to the walls creates the illusion of a bigger space. By using this throughout your unit, a visual continuity is created, making the space seem bigger.
The bottom line
The famous quote "Home is where the heart is" still holds to this day. Starting from a bare affordable house and lot unit, a house can immediately transform into a home with just enough creativity and dedication from its residents.
As such, who wouldn't want to keep their space bright, light, and homey? It doesn't even have to be a huge or expensive. You can always make a dream home out of your house and lot investment – regardless of how big or small it is.
---
Present in all over the Philippines, Lessandra provides quality and affordable house and lots for Filipinos looking for the best life in the best home. Lessandra House Listings provides a detailed line up of townhouses for sale and house and lots for sale. To find out how to buy a house and lot in the Philippines, head over to the Lessandra Guides and FAQs.