According to the latest data from the Philippine Statistics Authority (PSA), which serves as the central statistical authority of the Philippine government that aims to collect and analyze data from different censuses on population, agriculture, businesses, and other sectors of the economy, Quezon is still holding the title of being the top producer of various farm products in Region IV-A CALABARZON.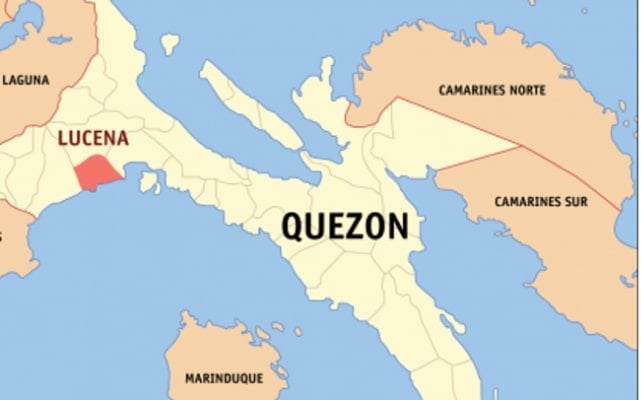 Quezon's farm products include but are not limited to corn, banana, coffee, sweet potato, pineapple, citrus fruits, vegetables, and other fruit trees. However, the province is more than these goods. Quezon has a lot more to offer not just to its constituents but to its tourists as well. This huge compact of land consists of approximately 709 tourist destinations and attractions. 321 of which is natural, 203 restaurants and hotels, 78 cultural and festival celebrations, around 74 historical sites, 32 is man-made, 14 religious places, and 1 agri-tourism. What more can you ask for? Quezon has everything in store for you.
Top Tourist Spots in Quezon
Jomalig Island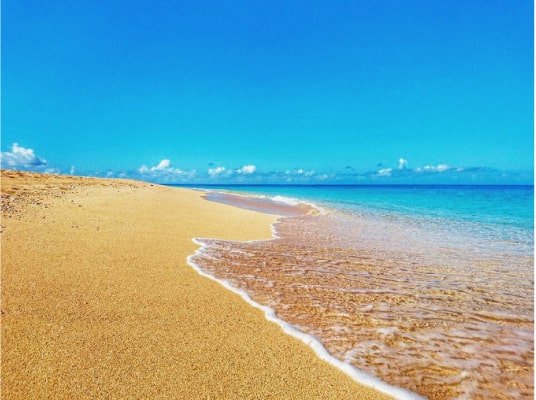 Included in the list of the popular tourist spots in Quezon is the Jomalig Island. The island's name came from the Filipino word "humalik" which means to kiss; this island will make you feel kilig because of its mesmerizing picturesque sight. Imagine yourself walking on the golden sand of Jomalig with your special someone, watching the sun slowly setting on the horizon of the Pacific Ocean. Who wouldn't love to indulge in it? Even when you are having a "me" time, the island is still as magical. This should be included in your bucket list.
Kamay ni Hesus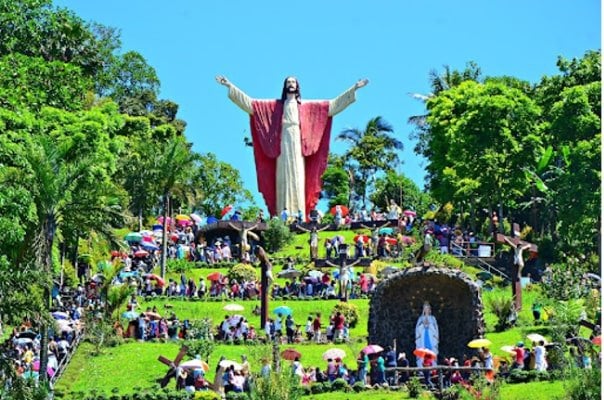 A Quezon Province tourist spot known by many is in in Lucban, Quezon, the Kamay ni Hesus. It is a healing shrine popular because of its 300-step climb to the huge statue of Jesus. Aside from the grotto, you can also visit the Healing Church, Noah's Ark, Sea of Galilee, Holy Family Park, and the Pastoral Center founded by the Healing Priest, Fr. Joey Faller. Whether you are a believer or you just simply want to look around, visiting Kamay ni Hesus is never a bad decision.
Kamayan sa Palaisdaan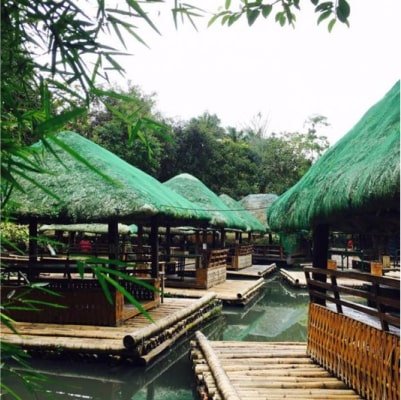 How about eating in a floating restaurant? Yes, another Quezon province tourist spot is also a popular restaurant. Here at Kamayan sa Palaisdaan, you can experience eating in a nipa hut as you float on a huge pond. It is a perfect place for seafood lovers as they serve a wide variety of seafood cuisines. They also serve meat and vegetable dishes if you are allergic to seafood or just not a fan. A few of their main dishes are "Sinunog na Tilapia", charcoal-grilled Tilapia simmered in freshly squeezed coconut milk; and "Ginataang Suso", a savory river snail dish with coconut milk. What's the best thing about dining here? Other than their floating nipa huts, you are also surrounded by wondrous nature. And if you suddenly get tired and want to spend the rest of the day, they have rooms to accommodate you. Perfect, isn't it?
Malagonlong Bridge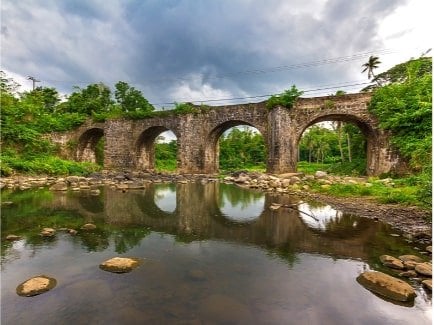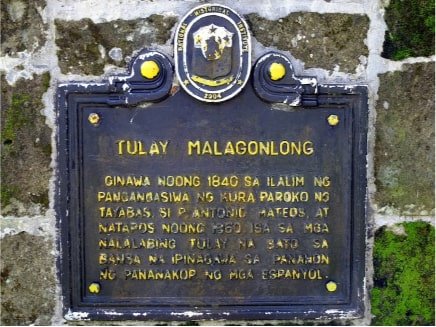 The historical places in Quezon Province are also popular tourist spots in Quezon, one of which is the Malagonlong Bridge.
Even though the bridge failed to be among UNESCO World Heritage, the Malagonlong Bridge is included in the list of the Philippine Registry of Cultural Properties as a National Cultural Treasure. Built between 1840 to 1850 and with a length of 445 feet, the bridge is one of the oldest and longest arched bridges in the country. Formerly known as Puente de Malagonlong, the bridge is made by the people of Tayabas as a result of forced labor. Approximately 100,000 adobe blocks were needed to build it. The most interesting part of the bridge is the engraved symbols on almost all of the adobe blocks used.
Other than the Malagonlong bridge, there are several historical bridges that have been listed by the local government of Tayabas City under protection.
List of Historical Bridges in Quezon
(Bridge, Location, Year Finished)
Puente de Alitao, Alitao River, Poblacion, 1793
Puente de Isabel II, Iyam River, Brgy. Baguio, 1853
Puente de Urbiztondo, Malao-a River, Barangay Malao-a, 1854
Puente de Don Francisco de Asis, Domoit River, Brgy. Domoit, 1854
Puente de Bai, Bai Creek, Brgy. Dapdap, n.d
Puente de las Despedidas, Malaking Ibiya, Brgy. Lalo, n.d
Puente de la Ese, Ibiyang Munti, Brgy. Camaysao, n.d
Puente de la Princesa, Ilayang Dumacaa (Upper Dumacaa), Brgy. Matuena, n.d
Puente del Malogonlong, Dumacaa River, Brgy Matuena, 1850
Puente del Lakawan, Lakawan River, Brgy. Lakawan, n.d
Puente del Mate, Mate River, Brgy. Mate, n.d
*Legend: n.d means No date
With these bridges, it goes to show that Quezon is not only abundant when it comes to agriculture and natural beauty but in history as well.
Niyogyugan Festival

With a massive amount of land intended only for growing and cultivation coconut trees, the Quezon province is considered one of the top producers of coconuts and its by-products in the country. And for that reason, Quezon holds its provincial-wide festival called Niyogyugan Festival wherein all the municipalities showcase their produce through colorful and creative booths made out of the different parts of a coconut tree. The whole province celebrates this festival every month of August to commemorate its eminent son, former President Manuel Luis Quezon.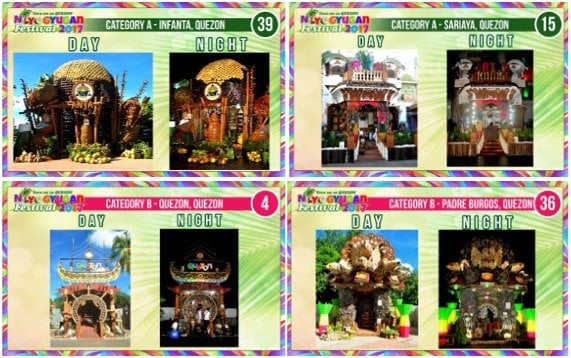 Aside from Niyogyugan Festival, there are over 40 festivals in Quezon since each municipality has its own and unique festivals as well.
List of Quezon Province Festivals
Tay-Tsinoy Festival (Tayabas City) every January or February
Tagultol Fishing Festival (Atimonan) from July to August
Maubanog Festival (Mauban) every July
Boling Boling Festival (Catanauan) every May
Gayang Festival (Guinyangan) every May
Pahiyas Festival ( Lucban) every May
The cultural festivals and tourist spots in Quezon make the province vibrant and a must-visit in the country.
Without a doubt, Quezon is indeed a place where you can freely enjoy life. You can see its people's love from where they came from through preservation of historical places in Quezon Province, their pride by celebrating and flaunting their main source of livelihood, and hope that one day, the whole province of Quezon will be known as one of the go-to places of local and foreign tourists in the world.
---
Lessandra Blog is a compilation of lifestyle, community, and home-related articles. For real estate investment and tips on how to buy house and lots in the Philippines, visit Lessandra's Lifestyle and Home Investments section. To know more about quality and affordable house and lots in the Philippines, give the property listing section a visit. Live in best, live in Lessandra.
Sources:
http://kamaynihesus.ph/about-us/
https://outoftownblog.com/malagonlong-bridge-in-tayabas-city-the-longest-spanish-bridge-in-the-philippines/
https://psa.gov.ph/about
https://www.quezon.gov.ph/flagship-programs/agriculture
https://www.quezon.gov.ph/general-information/about
https://www.adventurouslens.com/jomalig-island/
https://www.quezon.gov.ph/niyogyugan/about-niyogyugan-festival