When you think of South Mindanao tourist spots, the places that probably enter your mind are the Tuna Market General Santos City, Mt. Apo in Davao City, Island Garden City of Davao del Norte, Mapawa Nature Park in Cagayan De Oro City, and Hinatuan Enchanted River in Surigao del Sur. But, there is one unsung hero among Mindanao tourist spots and it is South Cotabato.
South Cotabato is a province located in the SOCCSKSARGEN region of Mindanao. It is known for being the "Land of the Dreamweavers" and one of the most productive tourist spots on the island. One reason for South Cotabato's progress is its developments towards being a tourist spot in Mindanao.
There are people who are not that familiar or probably have not discovered the tourist spots of South Cotabato yet. But for the island born locals, the province is a haven when it comes to fun activities because every municipality has its own tourist spot. Here are some of the top tourist attractions that will give you an adrenaline rush when you visit South Cotabato.
South Cotabato Tourist Spots in Tupi
Strawberry Guyabano Farm (SG Farm)
Located at the Municipality of Tupi, this tourist spot in South Cotabato is known for its ambiance and of course, its products which are strawberries and guyabanos (soursop). This South Cotabato tourist spot is a perfect place to find peace and joy after a long, stressful week. SG Farm is a great alternative to going to Baguio City as it has the same vibes.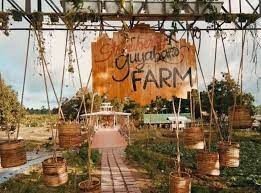 Many adults and teenagers will love this tourist spot in Mindanao not just because of strawberries but also because this is a perfect place to capture Instagramable photos. Strawberry Guyabano Farm will give you an extra special glamping experience. Nothing can go wrong when you have a beautiful sunrise and a view of Mt. Matumtum in the morning.
Magsangyaw Land of Praise
This religious sanctuary located at Mt. Matumtum can surely give your vacation a spiritual touch. It is located on a mountainous peak, that's why you will surely enjoy the scenic view of this tourist spot in Mindanao. There are also structures in this Cotabato tourist spot which you can enjoy taking pictures of, such as the magic carpet and the broomstick.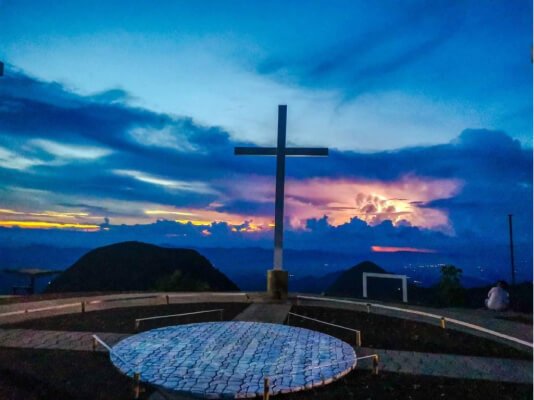 And after enjoying the picturesque view of this tourist spot in South Cotabato, you can chill and feel comfortable in their nipa cottages in the mossy forests. There are also stores where you can buy some snacks. Magsangyaw's entrance fee is only Php 50 per head in the morning (6 AM-5 PM) and Php 100 in the evening (5 PM-6 AM).
The best time to come to this place is early morning or late afternoon to avoid the sun's scorching heat.
River Ranch Resort
River Ranch Resort is one of the newest tourist destinations in South Cotabato located at Tupi as well. There are several activities that you can do at the cold water of this resort. First, you can enjoy their natural pools to the feel the fresh turquoise waters.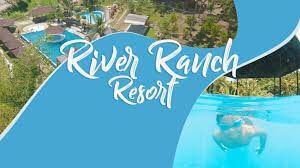 You can also take a walk in their nature park if you love to relax outdoors. Another activity that you can enjoy at River Ranch resort is outdoor fishing. For just Php 100, you can rent one of River Ranch Resort's fishing rods and try to catch your next meal in their nearby fishing spot. And if you wish to spend the night there, you can have the best glamping experience in one of their deluxe tents.
South Cotabato Tourist Outside Tupi
Emilio's Kawa and Flower Garden
Aside from Tupi, Lake Sebu is one of the municipalities known for its tourist spots in South Cotabato. One of these top tourist destinations is Emilio's Kawa and Flower Garden, located at Brgy. Talisay, Lake Sebu, South Cotabato.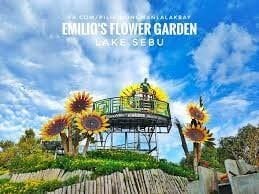 Emilio's kawa and Flower Garden is the first-ever flower kawa bath in South Cotabato. The tourist spot in Mindanao does not only offer lush greenery and "kawa bath" perfect for nature lovers.
You can also have an overnight stay and enjoy their golden rice fields and colorful hills in this destination at Lake Sebu, South Cotabato. Their restaurant is also open if you want delightful meals during your visit.
The main attraction of this Cotabato tourist spot, of course, its kawa bath where you bathe and relax in a wok filled with warm water and flower petals that are perfect for relaxation. As of now, Emilio's Kawa and Flower Garden is still in its developmental stage but rest assured that this tourist spot in Mindanao is ready to accommodate guests.

Mambukal Hot Spring Resort
Mambukal Hot Spring Resort is a tourist spot in South Cotabato where every Cotabato tourist can experience nature's peace and calmness. It is located in Brgy. Mambucal, Koronadal City, South Cotabato, also known as Marbel, the "Crown City of the South". According to the Arts, Culture, Tourism, and Museum Unit, this is one of the best tourist attraction sites in South Cotabato.
They also offer huts and lodging for their guests. The best activity you can do here is relax and experience their Sulphur hot springs. The benefits of the natural pools and hot spring include treatment of skin irritations and improvement of blood circulation. The warmth of this tourist spot in Mindanao complements the cold temperature of Koronadal City.
It opens daily from 5:30 am to 6:30 pm. They are also open for an overnight stay where the standard check-in starts at 2:00 pm and the standard check-out ends at 12:00 noon. The price of the entrance fee is from Php 30-50 only. Mambukal Hot Spring Resort is the only hot Sulphur spring resort in the City of South Cotabato.
Lake Holon
The T'boli tribe considers this as a holy tourist spot in South Cotabato in the SOCCSKSARGEN region. Before going to Lake Holon, one must register first and secure local guides along with the municipal indigenous tribes' tourism office. This breathtaking beauty is called the "Crown Jewel of the South." However, not many nature lovers are seeing its beauty and cold water.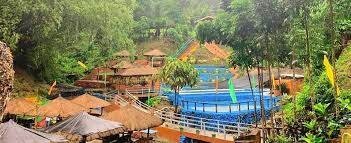 One of the reasons why this lake remains undiscovered for many domestic tourists is because of what you need to do to get there. First, guests must ride a skylab motorcycle for an hour just to get to its jump off point at Brgy. Salacafe. From Barangay Salacafe, it takes three to four hours of hiking to the campsite where the shore of the lake will be seen. This might be a long expedition, but it's totally worth the trip.
Residing in South Cotabato
Truly, South Cotabato is blessed by its beauty. Living near Cotabato tourist spots is a big advantage because it gets you the option of going to breathtaking wonders if you want to relax from the stresses of life.
Lessandra Prima is strategically located at Robredo Street, Barangay San Isidro, Koronadal City so residents are more accessible to the different Mindanao tourist spots that the province can offer.
Lessandra Prima Koronadal gives every homeowner convenient, safe, and secured life! Aside from having an affordable house and lot in Koronadal City, Lessandra Prima also offers a beautiful view of Mt. Matumtum that homeowners can't get enough of.
Mindanao is full of untapped locations and tourist spots that can boost the country's tourism revenue once discovered. South Cotabato is one of the provinces that knows how to utilize these places. South Cotabato is the perfect example of what tourist spot in Mindanao could be if these untapped locations are used for development and progress.
---
Lessandra offers quality and affordable house and lots in the Philippines, guaranteed to be accessible from any point in the country. To know more about the communities present in prime locations, visit Lessandra Project Listings. To know more about the affordable house and lots offered by Lessandra, visit Lessandra House Listings. Read more about the locational conveniences of Lessandra communities at Lessandra Blogs and News.
Sources:
https://www.mindanews.com/top-stories/2017/09/south-cotabato-land-of-dreamweavers/
https://theprovincialladyblog.wordpress.com/tag/travel/
https://vismin.ph/2021/sg-farm-south-cotabato/
https://vismin.ph/2020/magsangyaw-land-of-praise/
https://www.facebook.com/mambucalhotspring/
https://www.desoncunado.com/post/mambukal-hot-sulphur-spring-resort
https://www.mindanews.com/top-stories/2020/12/south-cotabatos-lake-holon-to-welcome-back-tourists-in-january-2021/