Taking a vacation is a necessity for everyone. It is a way for people to relax and take a break from repeated daily routines. When we think about vacation, going to tourist attractions away from home is what comes to mind at first.
But nowadays, traveling has been widely controlled and restricted for people of certain ages in the entire Philippines due to the current pandemic. Despite that, many ways are being done for us to take a well-deserved break and unwind without breaking health protocols, and one of them is a staycation. According to Merriam Webster, the word staycation means a vacation at home or nearby.
There has been a rise in the number of people taking 'staycations' being offered in the six provinces of the Bicol Peninsula, especially on Sorsogon, Albay, and Camarines Norte. Camarines Sur, the biggest province in the Bicol Region, is not an exception, as it offers both the wonders of nature and staycations in places you least expect.
---
Can't have a staycation due to being overseas work? Here's how you can still bond with your family at home.
---
There are countless start up and tenured locations in Camarines Sur suited for everyone's perfect staycation preferences. Here, we are listing down a few which will surely make your well-deserved break even more worth it.
Tugawe Cove Resort (Brgy. Colongcogong, Caramoan, Camarines Sur)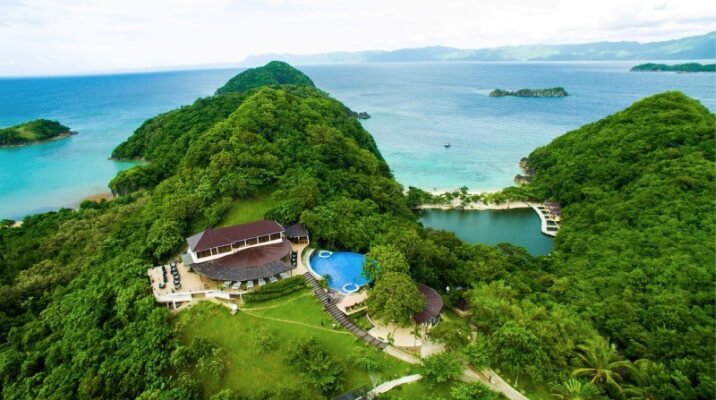 Photo: Tugawe Cove
Tugawe Cove Resort is a 4-star hotel located at Camarines Sur's far-east end town, Caramoan. You'll surely witness the horizon where the blue seas, white sand, and calm lake meet while enjoying the comfort in their cozy accommodation at this hidden paradise slowly being recognized both locally and internationally.
Their rooms can accommodate a minimum of two paying guests and a maximum of seven in their family room. Each of these rooms is named according to their location and view within the resort (lakeside, hillside, and hilltop), which the customers can choose from.
Each is also furnished with the following features:
Air-conditioner
32-inch LCD TV with satellite channels
Private toilet and bath with a hot and cold shower
Wide veranda
Built-in closet
Mini refrigerator
Complimentary bottled water
Coffee and tea-making facilities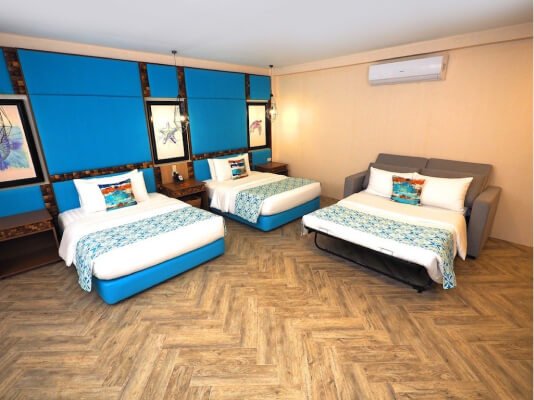 A Staycation is not complete without other facilities outside the rooms. Tugawe Cove Resort offers facilities like an infinity pool, restaurant, pizza bar, souvenir shop, café, a viewing deck, a game room, and tram. All of them come with a great panoramic view of the green hillside and blue sea.
If you are planning to explore outside the accommodation as well, the resort also offers outdoor activities like island hopping, watersports, and camping activities like bonfires and picnics among others. Prepare to stay for two days or more to fully enjoy your stay in this paradise.
Villa Caceres Hotel (Magsaysay Avenue, Naga City)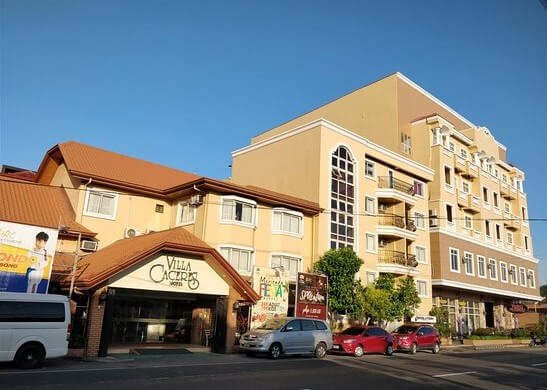 Photo: Tripadvisor
Villa Caceres Hotel is a 3-star hotel in Bicol that can give you 5-star comfort and relaxation without leaving the busy city life as it is located along Magsaysay Avenue in Naga City. It is just the right place to spend your staycation after looking for bars, restaurants, and cafes, which is quite numerous in the land area.
This hotel is also quite known for diners just below the hotel, especially RJ's Buffet, which serves Asian and other international dishes. RJ's Buffet has different buffet sections to offer a palette of taste for its customers.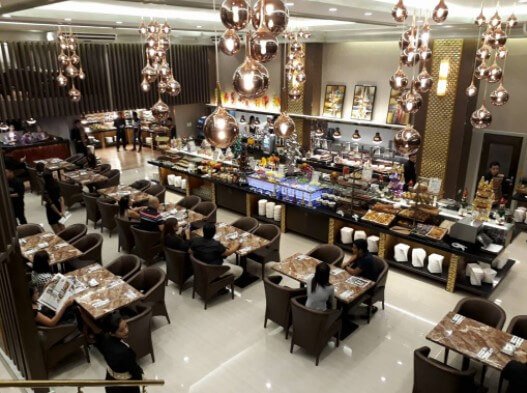 Photo: Naga City Guide
Some of these buffet sections are Japanese, Bicolano, Filipino, and Western dishes. Others restaurants near Villa Caceres include Anne's Pool Resto Bar, Bistro Roberto (a bar that also has a live band), and Rolando's Cafe.
---
Looking for other restaurants in Bicol? You can check these diners for you next food trip adventure!
---
Villa Caceres Hotel is also known for its multi-functionality, being able to accommodate seminars, weddings, and other formal functions and gatherings with their amenities. In addition to their luxurious rooms and suites, they also have a state-of-the-art gym, swimming pool, and sauna and spa services at their Health Club Resort, which will relieve your stress during your staycation. Don't miss out on their amenities and services when planning your next staycation.
La Terraza Beach House (Brgy. Duran, Balatan, Camarines Sur)
For those who want more exclusivity for their staycation trip, La Terraza Beach House is a must-visit whether with your family or group of friends. Unlike other places that offer multiple rooms at the same time, they offer the whole house to customers for 22 hours.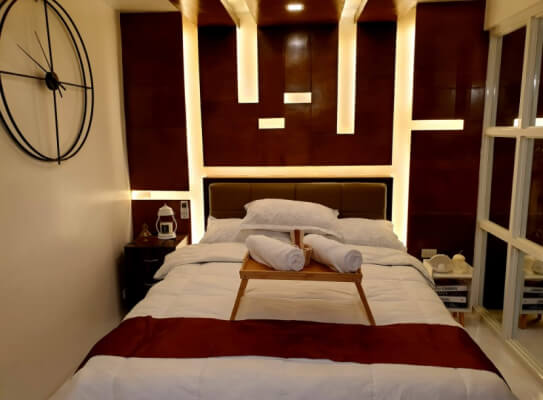 Photo: Facebook
This beach house in Balatan is perfect not just for staycations, but for team buildings and celebrations too. You won't even have to worry about your children when swimming on the beach because the waters are not that deep. The Beach House in Bicol is easy to locate as it is just along the road and beachfront. What makes it an even more picturesque location is the shoreline faces west that gives you a breathtaking sunset view.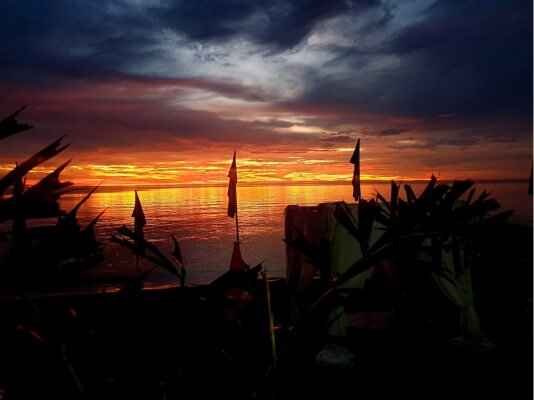 With a hotel-like ambiance, guests are free to use all the appliances in the house during their stay. They will also be provided with a free tent if they want to camp at the beachfront itself. They also accommodate small gatherings like birthdays or anniversaries. As the beach house is relatively new, bookings are required for you to fully enjoy the homey ambiance.
Best Location Where Home Meets Staycation
A very ideal community here in Camarines Sur that offers the 'staycation' feels is Lessandra Pili. Aside from its affordable house and lots, it offers community amenities like a swimming pool, clubhouse, basketball court, and playground open to every homeowner. Safety is also guaranteed to the residents with its 24/7 security and roving guards.
Surely, a Filipino's life would be complete and at ease with the maaliwalas community only here at Lessandra Pili. Get to experience an Angat living when you invest in a property at Lessandra.
These days, people are able to spend vacations without going further from home and spending much because recreation and relaxation are just within their reach. You can also find the best relaxation at a Staycation Destination: Kiawah Vacation Rentals. Living in a community that offers amenities similar to these recommended staycation spots proves to be very advantageous, after all, you won't need to leave if you live in a relaxing home and community.
---
Lessandra offers quality and affordable house and lots in the Philippines. Homeowners revel in the communities' guaranteed 24/7 safety and security and strategic locations near prime spots nationwide. To know more about the affordable house and lots available, visit Lessandra House Listings.
Sources:
https://www.tugawecoveresort.com/
https://www.villacacereshotel-naga.com/
https://www.tripadvisor.com/LocationPhotoDirectLink-g317123-d787007-i55020114-Villa_Caceres_Hotel-Naga_Camarines_Sur_Province_Bicol_Region_Luzon.html
https://www.nagacityguide.com/rjs-buffet-naga-city-buffet-restaurant/
https://www.facebook.com/La-Terraza-Beach-House-114359483556871