The COVID-19 epidemic began about two years ago. This event altered how people generally go outside, particularly in establishments. People must take their temperature, clean their hands, and complete a contract tracing form. Most institutions like food places now demand customers to show their vaccination card to enter their establishment. This is why the VaxCertPh was created, to make people's vaccination records easily accessible wherever they travel.
According to the VaxCertPH website, VaxCertPH is the official digital vaccination certification for Filipinos and non-Filipinos who have been vaccinated in the Philippines. It is suitable for domestic and international travel as it follows to the World Health Organization's (WHO) Digital Documentation of COVID-19 Certificates (DDCC) requirements. VaxCertPh was created to make people's vaccination records easy to find and available wherever they travel.
---
Exercise is proven to boost your immune system. Here are some exercises you can do at home to have a strong suit against COVID.
---
VaxCertPH is a project of the Department of Information and Communications Technology (DICT) and the Department of Health (DOH). According to DICT Undersecretary Emmanuel Rey Caintic, the digital vaccination certificates adhere to the World Health Organization's digital requirements (WHO). Its purpose is to indicate the immunization status of the certificate bearer. At the moment, the system only covers those who have been completely vaccinated.
It is entirely free and may be viewed via the VaxCertPH portal. VaxCertPH uses both private and public-key encryption to provide security. The DICT has completed programming for VaxCertPH, a vaccination certificate site that the DILG has stated would be published in different regions soon. The initiative also seeks to equip Filipinos traveling overseas with a vaccination passport which will be acknowledged in other countries.
At the moment, the Bureau of Quarantine (BOQ)-issued Yellow Card is accepted as an interim COVID-19 Vaccination Status method for foreign travel whereas the new WHO Digital Certificate protocol is being implemented globally. VaxCertPH will be deployed in tandem with the Yellow Card. On the other hand, the vaccination certificate produced by VaxCertPH is not a vaccination passport.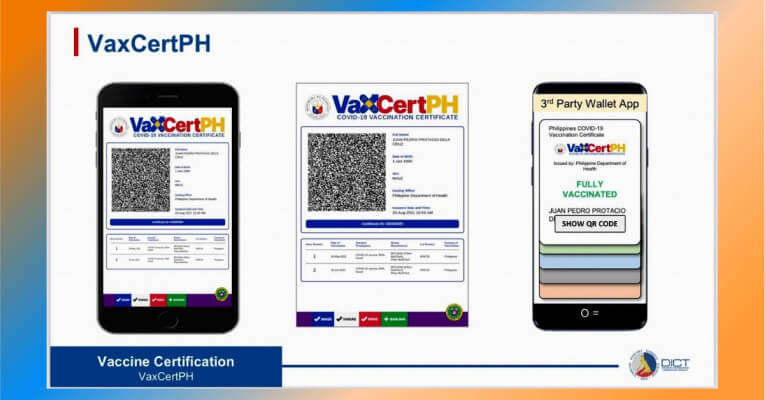 Source: https://mb.com.ph/2021/08/31/dict-to-launch-vaxcertph-by-september-2021/
In September, the government began implementing VaxCertPH registrations for a few people: overseas Filipino workers and citizens of Metro Manila and Baguio City traveling overseas.
Philippine Presidential Spokesperson Harry Roque said on October 29 that the country's digital vaccination certificate system, VaxCertPH, will begin accepting applications for domestic use, as well as travel. This proposal was approved by Resolution No. 146, which Roque announced in his daily briefing.
USec. Caintic, who was questioned by the Philippine Congress Committee on Information and Communications Technology during a community briefing due to delays in system and data preparation for LGUs, said that the delay in introducing VaxCertPH was because of additional time required for system and data preparation for the LGUs. VaxCertPH was completed on Oct.29.
---
Got complete vaccine shots? Celebrate by watching a film in these movie theaters.
---
The government will now require all local government units with digital vaccine administration systems to embrace and use the DICT's Vaccine Administration System. For capturing and categorizing all vaccination information under Resolution No. 146.
According to Roque, the Department of Interior and Local Government has been asked to direct all local government units (LGUs) to provide immunization data to the vaccine management and central database. Similarly, the DICT has been required to send reports twice a week on the regional status of vaccination data submission compliance to the main database.
Where did the idea of VaxCertPh come from?
The creation of VaxCertPH began in June 2021, when the DOH saw the need for a self-service portal that residents could use directly. The specifications were subsequently supplemented with a verification function that included QR Code scanning capabilities to be utilized by the BOQ and border protection officials. This new system (VaxCertPH) differs from the BOQ's Yellow Cards, which are granted to food handlers, sailors, and airline/aviation support staff.
"The Vaccine Line List data given by the LGUs to the central VIMS data warehouse is used by VaxCertPH to issue a digital certificate. All of the data is encrypted and can be cryptographically confirmed by approved agencies, groups, or nations," Caintic claimed during a Senate public session.
According to the DICT spokesperson, the system employs verified credential standards that enable it to be compatible with and be consumed by authorized wallet applications such as IATA's Travel Pass, AOKpass, and others. Caintic stated that since the conception of VaxCertPH, the Philippine government had held both the source code and the data acquired by the system.
The system relies entirely on the open-source project Digital Infrastructure for Vaccination Open Credentialing; MIT License (DIVOC) developed in India, which was utilized for the fast distribution of digital credentials for vaccination programs and served as the reference system for the WHO's DDCC. The eGov Foundation is in charge of the software project.
Merely two weeks since the World Health Organization (WHO) completed the guidelines and incorporated technical requirements for vaccination certificates on the last week of July. "VaxCertPH" portal and mobile app for releasing vaccination certificates to fully vaccinated residents in the Philippines is up and running and prepared to go live nationwide after LGU operator training in the coming months. The Vaxcertph is currently only available to OFW's and the residents of Metro Manila and Baguio City who will be travelling abroad. It is still not available for domestic use for all the residents in the Philippines.
"Even before WHO issued vaccination certificate requirements, your DICT has been working on the VaxCertPH in collaboration with the DOH." "With the new rules, we will continue to enhance the present system to meet global standards," DICT Secretary Gregorio "Gringo" B. Honasan II stated.
The WHO proposed the use of electronic vaccination certificates. This certificate documents a person's present vaccination status, as a device through which a person's COVID-19-related health data can be electronically demonstrated. This is done via a digital certificate for use in the continuity of care or as proof of vaccination for purposes other than vaccination in the Digital Documentation of COVID-19 Certificates: Vaccination Status — Technical Specifications and Implementation Guidance issued on July 27, 2021.
The digital vaccination information made by the DICT and DOH is based on data given by local government units (LGUs) via the Vaccine Information Management System (VIMS). As a result, the quality of data acquired in the VIMS is critical to VaxCertPH.
In light of this, the DICT, is focused on educating operators or users from various LGUs on correct data entry to reduce the likelihood of data-related mistakes on the certification site as per Inter-Agency Task Force (IATF) directives. The DICT is also advising local governments on how to handle data correction requests from vaccinated individuals.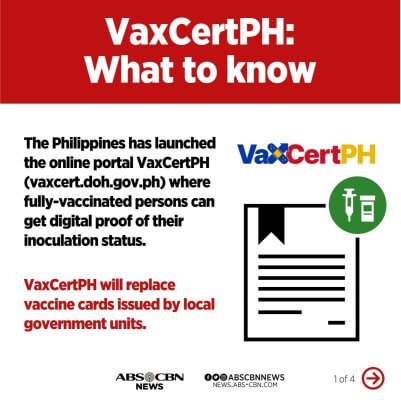 Source: https://twitter.com/abscbnnews/status/1435200040859963398?lang=bg
What is the information included in the VaxCertPh?
The VaxCertPH digital vaccination certificate should include the following information:
USec. Caintic specifies a Quick Response (QR) code for vaccination certificates that must match the Vaccination Information Management System (VIMS) data.
Personal information — including the vaccination recipient's complete name, birth date, and sexual orientation.
Issue information, such as the name of the issuing office and the date and time of issuance.
A certificate ID number is a unique nine-digit number.
The certificate should also include information on the vaccine received by the certificate's owner. These are some examples:
Dose number – this is the number of doses given to the certificate holder.
Vaccination date — the day the certificate bearer received their first and second dose of COVID-19 vaccine.
Kind of Vaccination or Prophylaxis — specifies the type of vaccine delivered to the certificate bearer (COVID-19 vaccine, RNA-based, viral vector-based).
Brand and manufacturer — This includes the vaccine's brand or commercial name (BNT162b2, mRNA-1273, JNJ-78436735) and the manufacturer's name (Pfizer-BioNTech, Moderna, Johnson & Johnson, Sinovac, Sinopharm).
Lot number for vaccination — identifies the batch or lot number of the vaccine used.
Country of vaccination – the country in which the certificate bearer obtained their vaccine doses.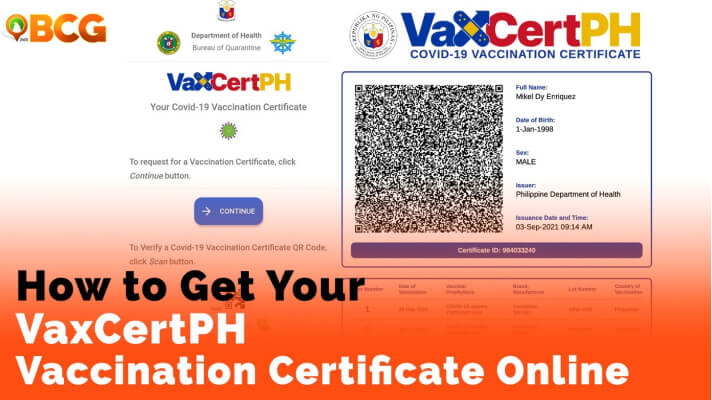 Source: https://baguiocityguide.com/how-to-get-vaxcertph-online-vaccination-certificate/
Steps on how to get VaxCertph?
Those who have had all of their vaccinations can obtain their Digital Vaccination Certificate (DVC) by visiting the VaxCertPh site at https://vaxcert.doh.gov.ph. Here are the ways on how to obtain your VaxCertPh.
Once you've accessed the portal, you have the option of selecting one of the following: (1) Continue to seek a vaccination certificate, or (2) Scan a COVID-18 vaccination Certificate QR code. Choose the first option.
Review and accept the data privacy statement.
Following that, you will be asked questions regarding your immunization status and whether or not you will be traveling overseas. It should also be noted that the VaxCertPH certificate is only valid for 14 days following the final immunization date.
Enter your personal information, such as your last name, complete name, middle name, suffix, and birth date. The information you encode must match the information on your immunization card.
Answer several questions about your immunization history, such as where and when you had your first and second vaccine doses.
Examine the information provided and input the seven characters shown on the screen. The computer will next validate the vaccination information you supplied.
If no record is discovered, you can upload your vaccination card and valid ID, as well as provide your e-mail address and phone number.
After the system locates your record, you may obtain a copy of your DVC. The QR code provided in the certificate can be downloaded, printed, or screenshotted.
You can follow these steps to obtain your vaxcertph or watch a video tutorial on youtube. Here is the link where you can watch the steps on how to get vaxcertph.
https://www.youtube.com/watch?v=_qb3fDIuN_E
Where can you register for your VaxCertPh?
For your convenience, you can have your VaxCertPH registration in malls collaborating with the DOH and the Department of Interior and Local Government (DILG). These malls usually have vaccination drives as well if you are not yet vaccinated.
DILG Undersecretary Jonathan Malaya said that only OFWs and Filipinos who want to move abroad might utilize the site, exclusively available in the CALABARZON and the National Capital Region.
According to Malaya, they are currently finalizing the line lists for the LGUs, and the list is merely a soft launch. They urge the DICT to approach the mayors for their support once again. He said that even if you're busy with vaccinations, you must submit the line list to DICT's Vaccine Information Management System within 24 hours after immunization for the system to record it. If you don't, nothing will be registered.
Some portal booths are also available in a few places in Manila, like Navotas. Malaya said the VaxCertPH portal booth is for those who don't have a smartphone, can't download a digital certificate, require assistance printing a digital certificate, or need help amending their data.
Malaya also added, "Our ultimate goal is to eliminate the need for booths since the application is self-service and downloadable. As a result, the fewer individuals that visit the booth, the better."
VaxCertPh will soon be available to the general public in the Philippines. It is a step forward in this pandemic to make contact tracing and prove that you are entirely vaccinated faster. We must be prepared to receive the vaccination certificate and adjust to the new normal in this pandemic.
Get your digital vaccine certificate now!
Registration for your vaccination certificate is a free and easy process. Some malls offer VaxCert registration, but you can do it in the comfort of your home too. People who travel domestically and internationally are the main priority for the certificate. But, it's best to get yours too because a good alternative for your vaccination card.
Please bear in mind that there are going to be millions of Filipinos who will sign up for their VaxCert too. So, you should be patient if processing yours takes a little longer. While there are efforts in providing vaccination certificates, we should always remember that this is not a license for us to just go whenever we please.
Everyone should remember that we are still in a pandemic and the next best thing we can do after getting fully vaccinated is to go outside only when needed.
---
Lessandra offers affordable house and lots in the Philippines, present in over 40 areas nationwide. To know more about the affordable house and lots offered by Lessandra, visit Lessandra House Listings. To explore Lessandra communities, head over to Lessandra Project Listings. More food-related reads are available at the Food Finds section of Lessandra Blogs and News.