Halloween is a yearly event that takes place on October 31, and this year, it will take place on a Sunday. A trivia on Halloween is that it originated from a pagan festival called Samhain. Ancient Celts celebrated Samhain on October 31 by lighting bonfires and dressing attire to drive away from the spirit. Trick-or-treating, carving jack-o-lanterns, gatherings, dressing up in costumes, and eating candy have all become traditional fun Halloween activities over the years. Holloween is an occasion that many people, especially children, look forward to, owing to the sweets and fun Halloween activities.
Although the time for trick-or-treating has returned, you are under no pressure to go outside, especially that there is a pandemic and is it is risky for the kids. However, the kids may be upset by this decision. Fortunately, we have many alternate activities and ways to celebrate Halloween at home that will keep them just as entertained—and still include lots of treats!
Most of all, we advocate keeping things as usual for the kids as possible. Let them pick their costumes and make a huge deal out of it on Halloween. If you include some or all of these spooktacular fun Halloween activities in your plans, your guests won't even notice that Halloween is just around the corner.
For some families, going door to door trick-or-treating this year may be too risky given the ongoing threat of the Covid-19 virus, so, in this article, we will give you tips on ways to celebrate Halloween at home.
Ways to celebrate Halloween at home:
1. Put on your best clothes, even if you have to stay home that night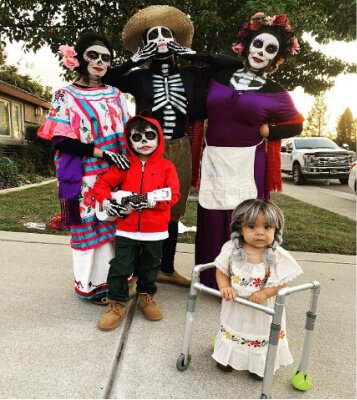 Source: https://www.care.com/c/family-halloween-costumes
What is the point of a Halloween party if no one is dressed up? If you're skilled with a sewing needle, peruse some handcrafted Halloween costume plans that you can create yourself, or choose one of the several ready-made costumes available. Even if you aren't heading outside for trick-or-treating this year and will have a Halloween at home party, you must get into the Halloween season by wearing costumes in your favorite outfit, Halloween decorations, and hanging out with family and friends. Costume house in Mandaluyong City has a fantastic assortment of Halloween costumes that includes adaptive and non-adapted outfits for people of all ages. You can go through their showroom or order online on their website. Halloween costumes for toddlers to adults are available to them this year. Will make it simple to dress up the entire family for at-home celebrations, and the adorable pet costumes will allow your furry pals to join in on the Halloween celebration as well. Have your friends and family participate in a virtual Zoom costume party to show off your ensemble.
2. Decorate your home by your Halloween taste.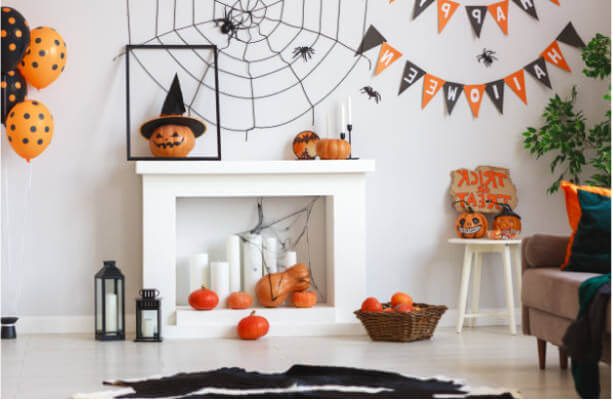 Source: https://www.istockphoto.com/photos/halloween-decorations
Halloween at home may be made a lot more exciting with creative décor! Decorate your space to the hilt, and to make it feel like a haunted home, alternate different themes throughout the area. You'll be able to arrange your own trick-or-treat event this way. This year's Halloween may be your best one yet with a bit of extra work and imagination. Whether you're going for a terrifying haunted house aesthetic or a cute candy store vibe, decorations for the holiday season are necessary, even if you're doing it simply for fun. It's easy to add a different style through your front entrance with this fall grass and trees wreath; such bats decorations are excellent for adding a frightening touch to any area, and all pumpkin-shaped lanterns will set the mood of your outdoor or indoor space.
3. Watch Halloween-themed films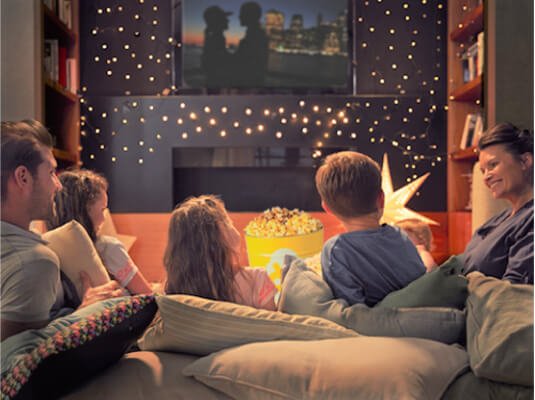 Source: https://www.docpopcorn.com/trending/Family-Movie-Night.html
Halloween decorations and scary stories were not enough to round out a fun-filled evening, so choose a kinship horror film to round off the evening. However, there are films acceptable for their age when you have small kids to watch with them. Create a rule that all participants must keep their eyes open while watching the video to make it more entertaining.
It is indeed Halloween season, so you must stream your favorite scary movie. Not to worry if you're not a fan of scary movies; there's plenty of entertaining Halloween movies to select. Netflix provides a plethora of films to choose from, like, 'Matilda,' 'Spirited Away (2001), 'Hotel Transylvania,' and 'Night books (2001)' and many more movies that are child-friendly to choose from.
4. Jack-o-lanterns making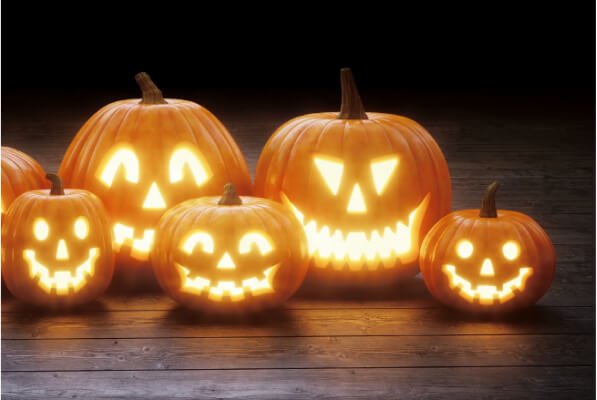 Source: https://www.mentalfloss.com/article/12865/whats-origin-jack-o-lanterns
Using pumpkins, you can carve your jack-o'-lanterns, or you can give your Halloween decorations a tropical touch by cutting out a few pineapples! Instead of using lighted tea lights, flood the space with Led bulbs or tiny flameless torches to keep it safe. If carving isn't your strong suit, try painting or gluing on some horrific features, such as googly eyes, to spice things up. Painting little pumpkins in pastel colors or coating the foundations in sparkly are both excellent options if you're going for a fashionable aesthetic. It's pretty stylish.
5. Make Halloween a learning experience by looking around you!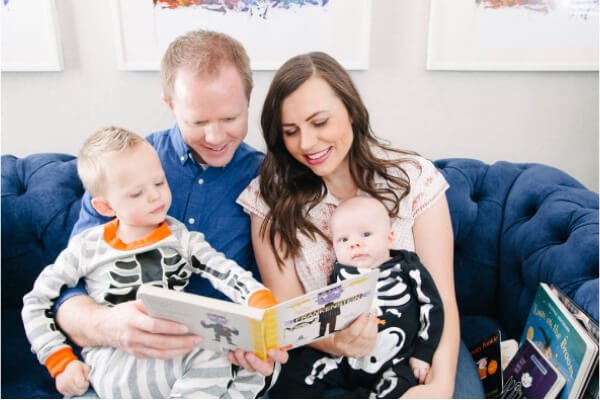 Source: https://fridaywereinlove.com/i-love-halloween-10-reasons-to-have-a-halloween-obsession/
Are there any events during this season of the year that you could use as a learning moment? Perhaps the spiders have begun to leave webs throughout the area - take advantage of this opportunity to educate children about spiders! Test your children's knowledge of the essential body parts by putting a few of those decorative skeletons in front of them. Alternatively, put on a fun Halloween-themed shadow comedy show and discuss to the children how the sun varies during the day and how this affects shadows and light!
6. Halloween scavenger hunt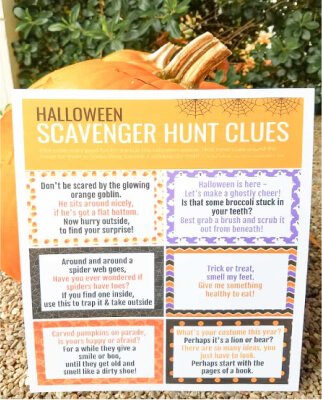 Source: https://stuffedsuitcase.com/web-stories/halloween-scavenger-hunt-fun-for-kids-story/
The Halloween hunt is a more intimate, in-home alternative to the typical trick-or-treating experience. Like a Treasure hunt, you can try and hide sweet snacks or presents in your backyard for your children to find and dig through. This game is perfect for a daytime diversion or a nighttime adventure if you enjoy the added spice of employing torches to aid in your hunt. In addition, because of this game, your child will not be forced to forego wearing the fancy dress outfit that they've been clamoring to wear all year.
7. Competition in pumpkin carving and pumpkin decoration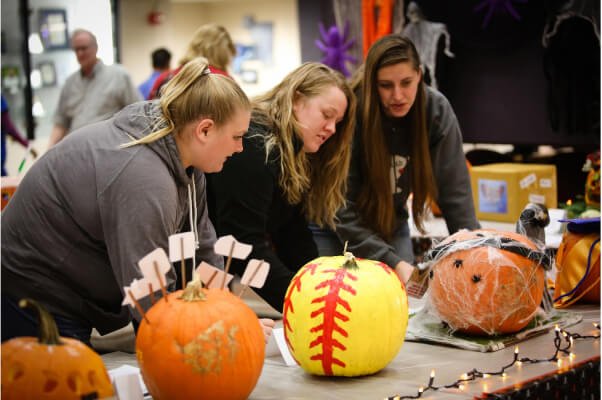 Source:https://blogs.dctc.edu/dctc-news/2016/10/28/pumpkin-carving-contest-winners-announced/
Sculpting pumpkins is a lovely ritual to start, and it may be done at the kitchen counter or, if you have a few visitors over, in the backyard, which is preferable. While extremely tiny children may not have been able to scratch pumpkins on their own, they usually love scraping out the pumpkin "guts" from the pumpkin. Sharpies, paint markers, fairy wings, stamps, and other similar items can be used to decorate pumpkins for small children. Playing Halloween music in the background can help to create a more festive atmosphere.
Halloween decors are a big part of the celebration. It is not too soon to begin arranging your household for Halloween, particularly if you're seeking simple, inexpensive DIY Halloween ornaments that didn't break the budget. There'll be numerous ways to decorate your house in celebration of the creepiest day of the year, ranging from fun DIY Halloween projects to endless pumpkin carving ideas. Whether you keep the frightening decor to a minimum or give your home a complete Halloween transformation, there are plenty of easy handmade Halloween decorations to pick from that will provide you that has plenty of DIY ideas to help you enjoy October 31 in style. Here are some Halloween decoration ideas for you:
7 Halloween decorations at home for your spooky celebration
1. Head sealed in a jar.
The head encased in a jar Halloween art appears so authentic that it can easily scare the living daylights out of anyone. You may believe it's challenging to make, but it's pretty simple. Use a large jar, food coloring, laminated paper, editing software, and a printer to create your edition of this frightening DIY Halloween décor. The trick to producing this appearance is to combine the two images, laminate them, and then place them in the jar.
2. Halloween-themed wall lights.
By concealing flickering LED tealights beneath a creepy Halloween mask, you can create eerie glowing eyes. Covering your panels with these personalized lights lining the exterior will give your Halloween decorations an incredibly cool look. Such Halloween-themed Halloween Wall Lights, which require no DIY skills to create, may elevate the festive mood to new heights. LED lights perform admirably within them. If you ever want to flaunt off the lighting, even more, you may always punch several holes through it into cans around the mouth and eyes, which will allow light to shine through.
3. Skeletons and paper owls for a frightening Halloween.
A fantastic method to commemorate Halloween is to use decorations that flow together to create the appropriate ambiance for the occasion. This eerie yet entertaining arrangement of floating corpses and flying owls may be just what you're looking for. You can arrange your paper owls on the wall in various ways, giving the impression that they are taking off or that they are ready to swoop down on unwary targets. Now, the skeletons can be mounted on the wall, throughout the fireplace, or anywhere else you wish them to be displayed. Every piece of the puzzle fits each other in an elegant, enjoyable manner that does not interfere with the Halloween atmosphere.
4. Flying cotton wool ghost companions
Making a cheesecloth ghost to welcome ghosts inside your house has never been more fun than this simple linen ghost craft that the whole family will enjoy. Spirits that are considerably more precise and lifelike in look than other ornaments are produced due to this technique. Also, based on how far you pump the balloon up, you can have them in various sizes, which might be helpful if you want to disseminate them throughout your home to give the impression that these amusing companions invade your house. You are welcome to put expressions on them and if you so desire.
5. Kitchen for trick-or-treaters
The kitchen is an excellent place to design because there are typically various options for how you may go about doing it. A spooky vignette is an excellent idea if you have the tabletop space available, so keep that in mind. Lights are a fantastic way to create ambiance, mainly when used with the appropriate candle holders. Additional small ornaments, such as corpses, can be used to enhance the effect of the candles. When you have kids, you may also use creative "trick or treat" signage to draw attention to the event.
6. A witch's leg that floats in the ceiling
Everyone has a good pair of striped stockings, a pair of old shoes, and an umbrella in their closet. Nonetheless, how often would individuals consider combining the three elements to create a Halloween-themed décor suitable for the occasion? With this adorable hanging object, you may give your guests a pleasant surprise that they will remember. This concept makes it easy to establish an illusion of two floating legs while also producing light for a living room or dining room if you choose to personalize it with LED lights. Nothing could be more appropriate for a Halloween at home celebration than the horrific concept of two witches' legs creating light from above.
7. Bannister bats
Whenever you move up and downstairs, such chunky feeling creatures will flutter. Cut out the forms for the bat body and wings using a bat pattern and felt. Wrap a five-inch length of yarn line around the center of every bat body, allowing the ends to dangle freely. To make the eyes, stick together two pieces of appropriate hole-punched papers to the head, then attach the head to the body in the center. Secure the bats to the rails with monofilament and clip any excess strands.
Halloween has been one of the occasions that the family, particularly the children, look forward to during the season. There are various ways to celebrate Halloween at home and lots of fun Halloween activities you can do even at home, but remember that you need not spend a fortune to have a good time. You only need to spend time with the family as well as be creative when preparing an event. More importantly, do not forget to take advantage of this Halloween at-home party to have a good time with your loved ones.
---
Lessandra Blog is a compilation of lifestyle, community, and home-related articles. For real estate investment and tips on how to buy house and lots in the Philippines, visit Lessandra's Lifestyle and Home Investments section. To know more about quality and affordable house and lots in the Philippines, give the property listing section a visit. Live in best, live in Lessandra.
Article reference: https://www.history.com/topics/halloween/history-of-halloween